Sport Kayak Tour


Tour held period Oct.~May. 
★Just swimming suit and towels OK!.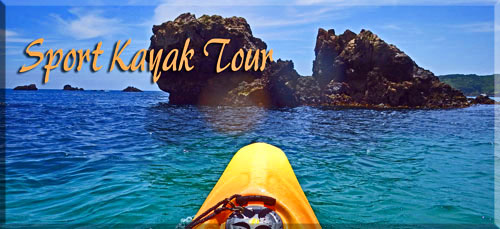 | | |
| --- | --- |
| | KAI'TO's club-house is situated at Sotoura Beach, Shimoda on the IZU Peninsula. Enjoy guided tours of the emerald green ocean and visit small islands in Sotoura-bay where you can enjoy paddling and soak in the sun. |

CLASSES AND FEES
CLASSES: Half day about 2 hours
■ Morning class : 9:30 sign in, 10am start
■ Afternoon class : 12:30 sign in, 1pm start)

FEES: 7.500 yen for adult(over 13) *Cash only
(Pricing includes guided tour, kayak rental, wet suit, life jacket, use of hot shower facilities at the club house.)

WHAT TO BRING
Just swim suit and towels.



OTHERS
PARKING
Free all season except summer.

CANCELLATION POLICY
If the tour booking is cancelled three days less prior to the tour date a 50% cancellation fee will be incurred. Please note that, in case of a storm or typhoon, your tour may be cancelled.
※The plan of the tour might be changed depends on the weather condition



KAI'TO
Seakayak School

〒415-0013
Kakisaki 788, Shimoda-Shi, Shizuoka(Sotoura beach)Map

☎080-5069-6779
Toshi Nagaoke
(AM8:00-PM8:00)


①At first, fill out the apprication form in the KAI'TO club house.Here is everything what you need, changeroom and hot shower.

②You do not have to worry about any cold with the wet suit!
Have fun with kayaking that you can enjoy only in this season!


③All of the participants take the short lessons in front of the beach.
Let's paddle to the
beautiful ocean !!
④You can enjoy kayaking through the tiny islands.
You will enjoy the adveture wold!
⑤Here is the southeast cost. You will have the great experience with a dynamic rolling!
You will be excited!
⑥Let's dive to the ocean from the kayak! Please do not worry even if you can not swim. You wear the life jacket which helps you to float.
⑦ You can re-get on the kayak easily! You already took the short lesson, so now you know how to do it!

⑧You will have a chance to enjoy surf kayaking as well according the weather condition!
Kayaking is popular sport as exercise !!

⑧" Wave is coming!
I try surf kayaking!!"
How was your trip?
You can take the hot shower and make yourself refresh !!
We are waiting for your visiting again !!
KAI'TO's main guide and instructor Toshiyuki Nagaoke, has many years of sea kayaking experience and has received extensive training for sea kayaking instructors by ACA (American Canoe Association in USA). Furthermore he regularly returns to the United States to participate in further training to maintain his instructor's certification by ACA.


*He ia an author of
"SEAKAYAKING TEXT-BOOK"
*Authorized Expert Guide of Izu
*Promotional Member, Preservation of Marine Environment
*He participated in Surf-Kayak Fes. in CA Santa Cruz 2004.
*The world championship of Surf-Kayak in Costa Rica 2005. GM class 6th.
*The world cup of Surf-Kayak in CA Santa
Cruz 2008. Masters 13th.

ACA Instructor
Toshi Nagaoke